Practical Utopias: An Exploration of the Possible
"There isn't 'the future' that we're doomed to enact.
There are all kinds of possible futures.
And which one we're going to get
is going to depend on
what we do now."

– Margaret Atwood
If we want to make change or create something new so we can bring about a better future for all, we have to be able to imagine what's possible. Not sci-fi epics or fantasies, but real, better living plans that could actually work.
NatuR&D's Anne-Marie Daniel was on the team who created the Practical Utopia called Symbiocene, one of the outputs in the published anthology. It's a collection of narratives developed by the subgroups and a series of illustrations to tell the story of this possible future.

As you read this story, we invite you to immerse yourself in possibility…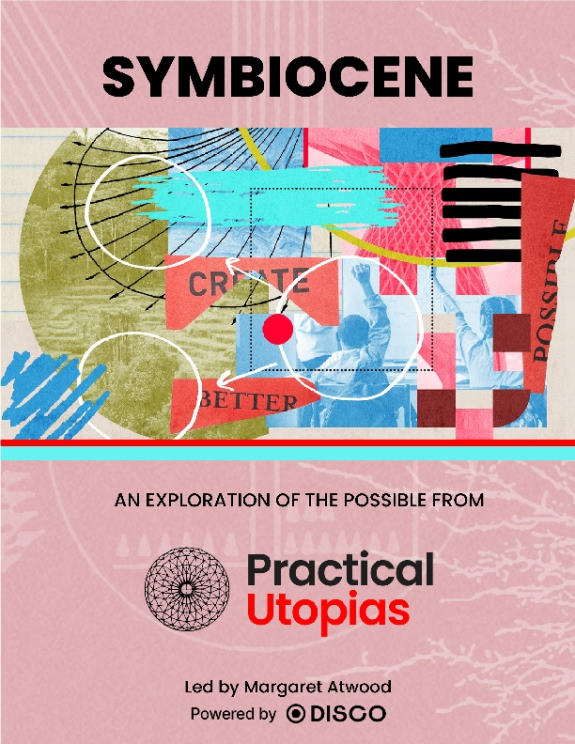 That's just what a diverse, global community of trailblazers and difference-makers collectively did in Practical Utopias: An Exploration of the Possible, a collaborative virtual learning experience led by world renowned author, teacher, and environmental activist Margaret Atwood and powered by Disco, the all-in-one platform that brings together community and learning.

With the guidance of Margaret and an all-star lineup of special guests, 200 Fellows from all walks of life ranging in age from 18 to 75+ and representing over 40 countries across 6 continents came together to boldly grapple with some of the most pressing challenges facing humanity today – the climate crisis and social inequalities being foremost.

Over the course of eight weeks from September to November 2022, Fellows collaborated as a member of one of eight teams and engaged in a highly ambitious collaborative world-building process guided by a facilitator and supported by an illustrator to help visualize their imagined worlds. Their challenge was to co-design a possible future that embraced the following constraints:

• 10 years from our present day
• Specific to a chosen geography
• Sustainable (i.e. carbon negative or neutral)
• Scaleable
• Attractive enough so that people will want to embrace it
• No magic wands: Must leverage solutions that already exist today in some form or have existed in the past

Within their teams, Fellows worked together in smaller subgroups to explore the following topics:
MATERIAL WORLDS
• Shelter
• Water
• Food
• Clothing
• Electricity
• Transportation
• Waste
• Death & Human Remains
SOCIAL WORLDS
• Education
• Health
• Gender Equality
• Arts & Culture
• Governance
• Communication
• Wealth & Financial Systems
• Faith & Spirituality
You can learn more about Practical Utopias
and explore the digital anthologies of the other teams of Fellows at

https://www.discostudios.com/learn-live-with-margaret-atwood-course

https://atwood.disco.co/
https://naturnd.com/wp-content/uploads/2023/01/Symbiocene-with-border_1200x600-copy-1200x423-1.jpg
423
1200
Sheryl Brecknell
https://naturnd.com/wp-content/uploads/2021/11/NATURD-logo-1.svg
Sheryl Brecknell
2023-01-20 20:45:48
2023-07-19 11:01:03
Practical Utopias: An Exploration of the Possible